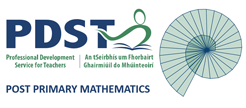 When is Maths Counts?
Where is Maths Counts on?

Athlone Institute of Technology Main Institute Building Campus Map

What will be happening on the day?

We have a world recognised experts in maths education speaking, visiting speaker from JCT, Lesson study workshops and workshops from each of the strands. Conference Schedule

How much does it cost to attend Maths Counts?

Maths Counts is free to attend.

Can anyone attend Maths Counts?

Maths Counts is open to all teachers who are registered with the Teaching Council of Ireland. If you are another education professional and wish to attend, please email grainnehaughneymdt@pdst.ie with your request.

Can you just turn up on the day?

No, you need to register beforehand.

Registration is closed, is there a waiting list?

Maths Counts has had an unbelievable response and is currently closed for registration. There is a waiting list. email grainnehaughneymdt@pdst.ie to request a spot on this list. If you are a participant in the 2018/2019 round of Lesson Study, include this information in your email.

Is lunch provided?

Lunch is provided to all registered attendees.

Is accomodation provided?

No. You must provide your own accomodation. There are a number of events on in Athlone on that weekend so it will be busy.

Is parking provided?

Despite the number of events on in AIT that weekend, we have been assured that there will be ample parking on campus but please arrive early to avoid queues. Car Park Map

Will there be a guest speaker?

We are delighted to be welcoming Professor Jeremy Hodgen to our conference this year. You can read more about Jeremy on our main Maths Counts page.