Enrol for Reflections on Practice 2016-2017


Enrol now for your local Reflections on Practice meeting and join over 150 maths teachers from across 50 schools who have already signed up for 2016-2017.


This year, to make it as easy as possible for you to participate we are now supporting meetings in local schools and education centres around Ireland. All our current venues are shown on the map below. If you want to join a meeting at one of these venues, click here to enrol.
If none of the current venues suit your needs you should still enrol and we will set up a new meeting venue which is convenient for you† and we'll provide a facilitator to mentor your research group.
† Note that we need a minimum of 3 teachers to set up a new venue
Details of the first Reflections on Practice meeting at each venue are provided below the map. Simply click on the relevant region of the map to be brought straight to the information regarding meetings in that region.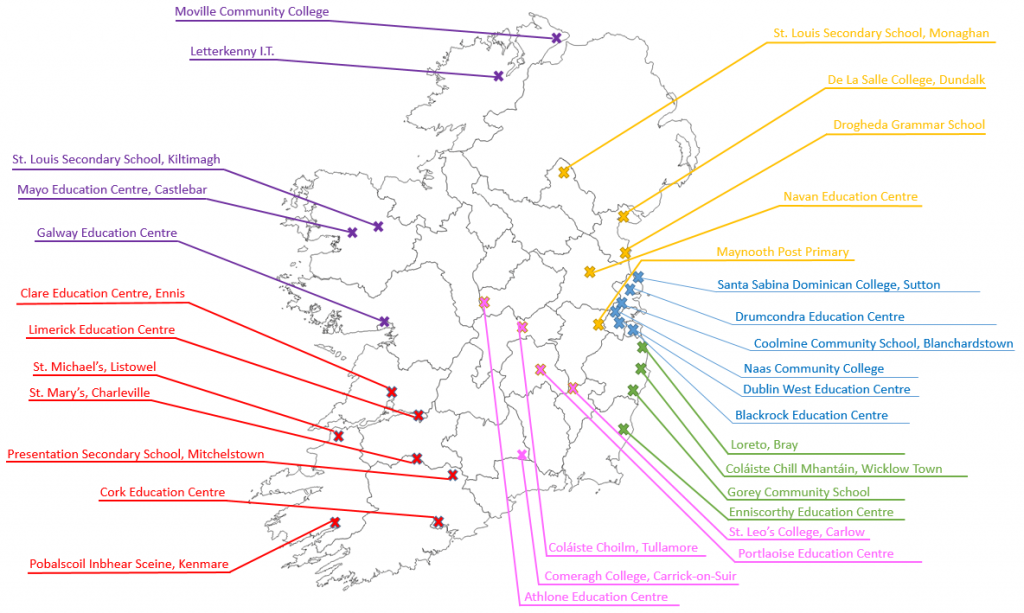 The North West & West
Venue

First Meeting

Facilitator

Participating Schools

Moville Community College

TBC

Ryan Monagle

Moville Community College, Carndonagh Secondary School

 

.

Letterkenny IT

TBC

Bella Glackin

Loreto Milford

 

.

St. Louis Secondary School, Kiltimagh

TBC

Lynn Anderson

St. Louis Kiltimagh, St. Joseph's Charlestown

 .

Mayo Education Centre, Castlebar

TBC

Brendan Doheny

St. Tiernan's Crossmolina, Moyne College Ballina

 

.

Galway Education Centre

TBC

Joanna Pres-Jennings

TBC
The South West
| | | | |
| --- | --- | --- | --- |
| Venue | First Meeting | Facilitator | Participating Schools |
| Clare Education Centre | TBC | Bairbre Ní Maille | Colaiste Muire Ennis |
| . |   |   |   |
| Limerick Education Centre | TBC | Seamus O'Conghaile | Coláiste Mhuire Luimhnigh, Coláiste Nano Nagle, Gaeilcholáiste Luimhnigh, Kilrush School |
| . |   |   |   |
| St. Michael's, Listowel | TBC | Conleth Dillon | St. Michael's Listowel |
| . |   |   |   |
| St. Mary's Charleville | TBC | Enda O'Connell | St. Mary's Charleville |
| . |   |   |   |
| Presentation Secondary School, Mitchelstown | TBC | Tricia Nolan | Presentation Secondary School, Mitchelstown |
| . |   |   |   |
| Cork Education Centre | TBC | Iris Graham | St. Aidan's community College, Coláiste na Toirbirthe, Kinsale Community School |
| . |   |   |   |
| Pobalscoil Inbhear Sceine, Kenmare | TBC | Conleth Dillon | Pobalscoil Inbhear Sceine Kenmare |
The Midlands & South
Venue

First Meeting

Facilitator

Participating Schools

Athlone Education Centre

TBC

Breeda Corcoran

TBC

 

.

 

 

 

Coláiste Choilm, Tullamore

TBC

Brendan McGlynn

TBC

 

.

 

 

 

Portlaoise Education Centre

TBC

Liam Newell

TBC

 .

 

 

 

St. Leo's College, Carlow

TBC

Sarah Tallon

St. Leo's Carlow, Scoil Chonglais Baltinglass, St. David's Finglas

 .

 

 

 

Comeragh College, Carrick on Suir

TBC

Enda Donnelly

Comeragh College, Scoil Ruain, Patrician Presentation
The South East
Venue

First Meeting

Facilitator

Participating Schools

Loreto, Bray

TBC

Cathal Halpenny

Loreto Bray, Temple Carrig, St. Brendan's Bray

 

.

 

 

 

Coláiste Chill Mhantáin

TBC

Joanna Garry

Coláiste Chill Mhantáin

 .

 

 

 

Gorey Community School

TBC

Shane Flanagan

Gorey Community School, Creagh College

 

.

 

 

 

Enniscorthy Education Centre

TBC

James Meaney

Coláiste Bríde Enniscorthy, Loreto Wexford

 

.

 

 

 

Comeragh College, Carrick-on-Shannon

TBC

Enda Donnelly

Comeragh College, Scoil Ruain, Patrician Presentation
Dublin
| | | | |
| --- | --- | --- | --- |
| Venue | First Meeting | Facilitator | Participating Schools |
| Santa Sabina Dominican College, Sutton | TBC | Audrey Carty | Santa Sabina Sutton |
| . |   |   |   |
| Drumcondra Education Centre | TBC | Kate Urell & Eimear Nic an Rí | St. Aidan's CBS, St. David's CBS |
| . |   |   |   |
| Coolmine Community School | TBC | Denise Carroll | Le Chéile Secondary School, Coláiste Pobalscoil Setanta, Pobalscoil Iosolde, Oberstown Campus School |
| . |   |   |   |
| Naas Community College | TBC | Derek Maher | Naas Community College, St. Farnan's Prosperous |
| . |   |   |   |
| Dublin West Education Centre | TBC | Philip Brady | St. Mark's Tallaght, Adamstown Community School, Old Bawn Community School, Tallaght Community School, Coláiste de hÍde |
| . |   |   |   |
| Blackrock Education Centre | TBC | Emer Brady | The Teresian Donnybrook, St. Laurence College, St. Benildus College |
North East
| | | | |
| --- | --- | --- | --- |
| Venue | First Meeting | Facilitator | Participating Schools |
| Maynooth Post Primary | TBC | Julie Reilly | Maynooth Post Primary, Maynooth Community College |
| . |   |   |   |
| Navan Education Centre | TBC | Carmel Quigley | O'Carolan College Nobber, Old Bawn Community School |
| . |   |   |   |
| Drogheda Grammar School | TBC | Virginia Desmond | St. Joseph's Secondary School Drogheda, Lusk Community School |
| . |   |   |   |
| De La Salle College, Dundalk | TBC | Liam Donaghy | Coláiste Rís Dundalk |
| . |   |   |   |
| St. Louis Secondary School, Monaghan | TBC | Louise Corrigan | St. Louis Monaghan, Beech Hill College |