When planning for a sequence of lessons it is important to select and make effective use of learning and teaching resources, including textbooks, to enhance student learning. Mathematics teams in schools need to select, adapt and develop resources to support their students' learning. Effective use of resources will help students to consolidate what they have learned, extend and construct knowledge for themselves and develop learning strategies and skills for learning. There are many free learning and teaching resources for Mathematics on this website. All these resources are linked to the relevant learning topic from the syllabus and may be accessed via Junior Certificate resources and Leaving Certificate Resources.  In addition to these resources there are also commercial resources available. An overview of some of these resources and their usefulness in a Mathematics lesson is provided below.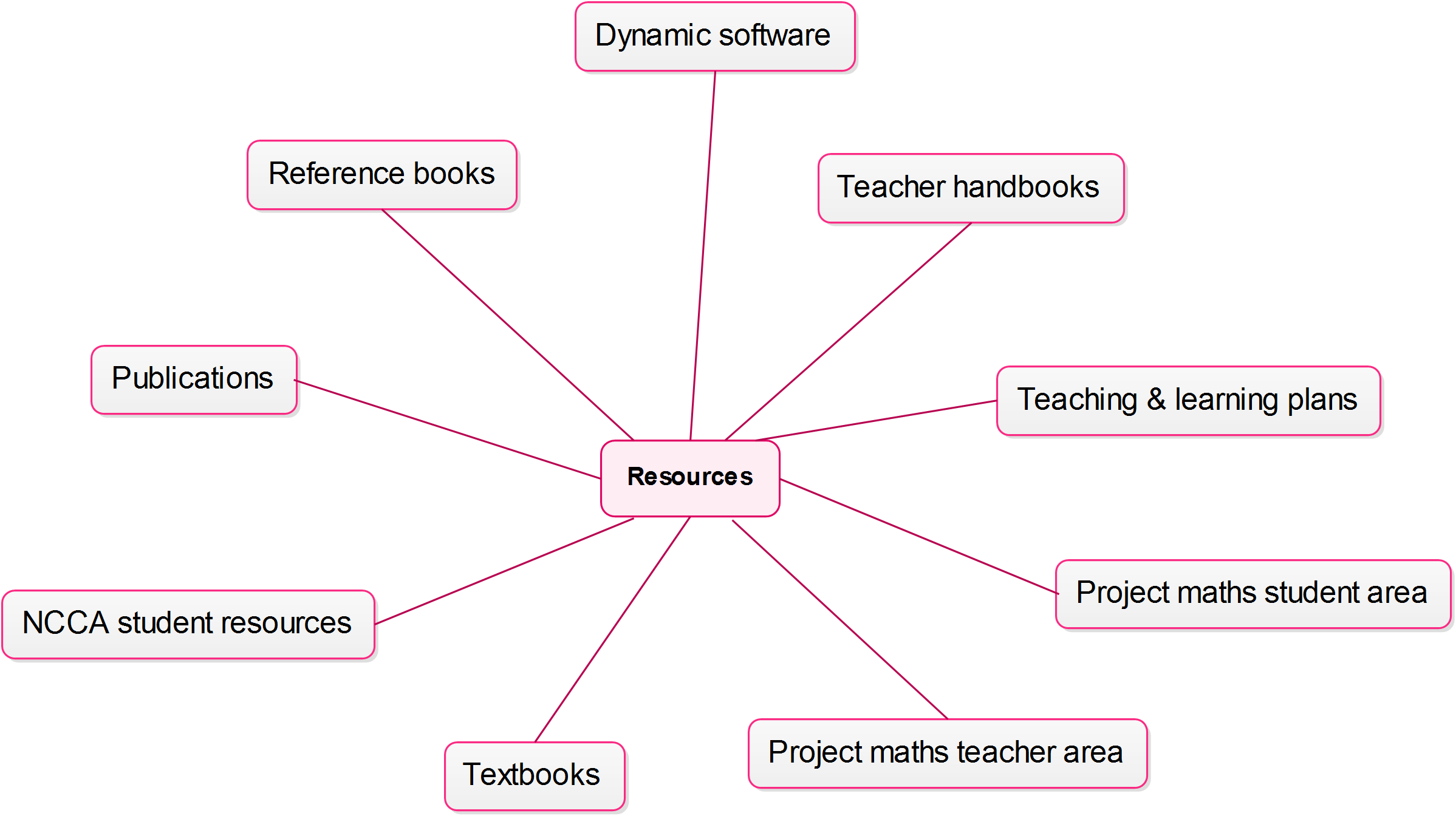 Teacher handbooks
The teacher handbooks on  www.projectmaths.ie provide a sequence of learning for students. The sequence is designed to ensure that students have the requisite prior knowledge before commencing a new topic and also… read more
Teaching and learning plans
There are a vast array of  teaching and learning available on www.projectmaths.ie. Each teaching and learning plan is structured as follows… read more
Student area
The student area of www.projectmaths.ie contains resources designed to support students' learning. These include interactive GeoGebra files, EXCEL files and quizzes to help students… read more
Textbooks
Textbooks tend to be the main resource teachers use in deciding what to teach. Most of the time in classrooms tends to be related to them in some way. Very often they are… read more
Education publications
A lot of research is carried out on the teaching and learning of mathematics each year. Since September 2013, all registered teachers have had free access to the EBSCO Education Source… read more
Reference books
Reference books are valuable resources for teachers and students. If a school can afford to have a good collection of books, they can be of benefit to students. Public libraries are also a good source. Selecting reference books is… read more
Dynamic software
There are a number of software packages available which may be used to enhance students' experiences of maths. Examples of such software include GeoGebra, Excel and Autograph. The dynamic nature… read more
Hands-on resources
There is a vast array of hands-on resources available for teaching mathematics. These include algebra tiles, angle estimators, clinometers, algebra balances, unifix cubes, geostrips,… read more
All of these resources should be drawn on to help students learn and broaden their learning experiences. All resources need to be adapted to meet the different needs and abilities of students. In addition teachers are advised to develop their own teaching and learning materials for this purpose.
Proper use of resources can make teaching and learning more effective, dynamic and interesting. It is advisable therefore to build up a suitable stock of resources including those listed above.
If space is available in a school, resources should be displayed for teachers' information and perusal. An alternative idea is to have a mathematics press available for teachers to access. A system should be developed to keep track of resources being borrowed at any particular time. An up-to-date list of resources available should be easily accessible for all mathematics teachers.
Teachers should be encouraged to use the resources which are available or have been developed. Teachers should also make suggestions for future procurement. It might be an idea to conduct small in-house workshops, demonstrations or sharing of experiences on the resources to provide all teachers with a better appreciation of the resources available within the school. Teachers can also share what they have developed themselves at such sessions.
When selecting resources the following principles should be considered:
– They should be in line with the learning outcomes in the syllabus.
– They should take students' prior knowledge into account.
– They should present concepts and ideas in an active and effective way.
– They should engage students actively in learning.
– They should provide knowledge but also scaffold learning.
– They should provide for students' differences by offering varied learning activities at different levels of difficulty.
– Resources used to complement textbooks should promote and extend independent learning in addition to what was learned in class.
– They should facilitate discussion and enquiry.